It is the learning and collaboration platform reference in Galicia based on free software.

The next version of CESGA Classroom will feature new functionality, as a conference call service, and improve existing features.

Over 70% of teachers are women who use it.

CESGA classroom experience has been a leader in the development of campus of the University of Vigo and University of Santiago.
CESGA classroom is the first and only e-learning platform open for experimentation with new technologies in teaching, implemented for teachers and researchers all levels in Galicia. Born with the spirit of becoming a tool for experiencing the possibilities of virtual learning environments, it is a stable service now offered by e-learning area of CESGA with nearly 23,000 users and 800 courses.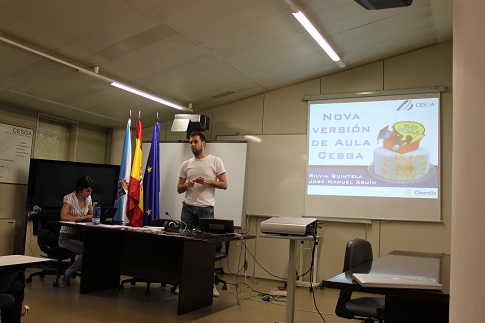 To celebrate the tenth anniversary of the commissioning of the platform, a festival was held on Friday, June 8, at a meeting at the Supercomputing Center of Galicia, CESGA. Many users attended from various fields to discover early the new products provided by the next version of CESGA Classroom running in the course 2012-2013. They participated in workshops and visited the facilities of the FinisTerrae supercomputer.
CESGA classroom today
Ten years after its birth in 2002, CESGA Classroom has become a benchmark in Galicia in the world of learning and collaboration platform based online open source software, since it is the only one offering a space for Galician researchers and teachers of any educational environment to experiment with ICT and work collaboratively with students and colleagues. It currently has over 23,000 active users in over 800 workspaces for learning. CESGA classroom is flexible in meeting the needs of teachers of all educational levels, namely: college, high school, official school of Languages, vocational training, teacher training or collaborative groups.
By conducting periodic surveys over the years, it has been found how its use has gained popularity exponentially, how the profile has changed f of their users (68% of men in 2006 to be 70% female in 2012), and how the trends and needs of the educational world are evolving. CESGA classroom today is much more a social tool, more collaborative, without abandoning its philosophy of simplicity and to provide a useful platform that's stable for a large number of teachers who are new to the world of e-learning.
A little history
The CESGA Classroom platform itself emerged from CESGA development on Open Source software called Claroline version 1.3 (www.claroline.net), developed by the University of Leuven, Belgium with the collaboration of a large community of users, mainly European universities.
The main reason for installing this software was because it offers a modular, easy to use, multilingual, and very light in terms of hardware infrastructure and resource consumption on the server and client. From the time of installation, you think of "CESGA Classroom" as a management platform of versatile courses that can serve three main functions:
Allow CESGA experimentation and detailed knowledge of such systems and their evolution are fundamental in the area of e-learning.

Serve as complementary tools to support e-learning: systems communication, job sharing, etc.

Provide a stable, useful and easy tool in the teachers and researchers community interested in education and innovation in their teaching and collaborative work via the Internet.
In March 2004, they launched the first version of the Dokeos (Dokeos 1.5) platform, with significant improvements on Claroline. Some of them successors to the collaboration with the development CESGA Classroom (chat, profile, jobs ...). After a detailed analysis of the area of e- learning and the user community at CESGA Classroom, it was considered the incorporation (or not upgrade) of some interesting improvements of Dokeos 1.5 to CESGA Classroom.
In 2010, there was a new fork (bifurcation) of most of the team of Dokeos developers. There is a new platform, called Chamilo (www.chamilo.org) that philosophy is inherited from the previous version, but has a greater commitment to the community of open software development project under this environment. Thus, in the summer of 2010 they performed the last migration (to date) of CESGA Classroom, which was a considerable effort, since they already had a very large number of active users and courses.
Next Version
The next version of CESGA Classroom, which will be commissioned early next year (August-September), will have new features, some very prominent, as a conference based service BigBlueButton (Webminar open source), but above all a great improvement on the existing features: social networking, group work, content management and user training, etc.
The level of satisfaction with the platform and CESGA support service offering has remained very high. These results show the high value that it gives to users with a close and effective answer to their problems or concerns with the tool. The next version of CESGA Classroom will address the need for updating new features demanded by users.
For more information: Maria Jose Rodriguez Malmierca Area Coordinator e-Learning, CESGA mjrm@cesga.es .